Second Chance Dog Rescue recently issued the following announcement.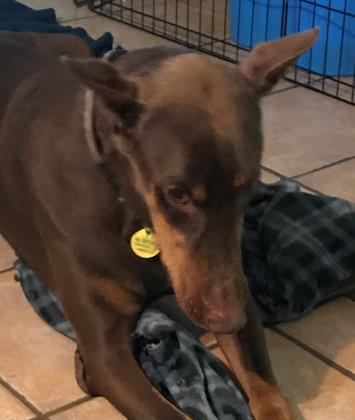 Be careful or you'll fall in love with this big guy! Viking is so well behaved and such a gentleman! He walks nicely on his leash and enjoys the stroll. Viking knows his basic commands and is eager to please you. He has been barking when he needs to go outside to potty and will follow through when you take him out. He does not like to be in a kennel and will cry if left there. He spends a lot of time with us in the office with the little dogs and has not had any issues with them. He likes to play with toys but beware, he will chew on blankets. Viking comes right to you when you call him and will lay his head against you for loves. He is so polite about not jumping up on people and does not lick your face.

Viking is an 8 year old red Doberman pinscher. He weighs about 73 pounds. Viking is neutered and current on all his vaccinations. He tested negative for heartworm. Viking is microchipped. His adoption fee is $210.00. You can adopt Viking at http://www.secondchancedogrescueofiowa.com/adoption.html Thanks!
Animal ID: 41763238
Species: Dog
Breed: Doberman Pinscher
Age: 8 years 1 month 3 days
Gender: Male
Size: Large
Color: Red
Spayed/Neutered: Yes
Housetrained: Unknown
Site: Second Chance DOG Rescue
Location: Second Chance
Intake Date: 5/23/2019
Stage: Available
To see more adoptable pets, click here.
Original source can be found here.