Norwalk Community School District issued the following announcement on Jan. 28.
Teams from all over the Norwalk & Des Moines Metro Community converged in Lakewood's Gym on Saturday morning on Jan. 26th for a shared cause and purpose. While they were competitors on the Dodgeball courts, everyone present was a fan of Special Olympics and helped to raise money for the Special Olympics of Iowa.
"Annually, this event raises around $11,000 every year." shared Cindy Spurr, who's brother-in-law heads up the Norwalk event.
"This is our 5th year doing this event and it's the most teams we've had." Jayson Spurr described with excitement.
Teams ranged from community members to Norwalk and Des Moines Area business including Norwalk's State Farm branch, Des Moines law enforcement, representatives from Farrell's & Krave Gyms, Norwalk students and staff members. Teams showed off their creativity as they sported their team uniforms and all showed excellent sportsmanship no matter the outcome on the court. The morning's matches were a warm-up to the later matches that were set up as double-elimination bracket competition.
Once the double-elimination bracket competition is complete, the winners receive a plaque and ample bragging rights. This year's tourney brought in approx. $12,000 and the winners from the Gold Bracket were T. Millas–this is a team that travel to tournaments all over the state every weekend. Second place was snagged by the Freedom Ballers, boasting 3 Lakewood Elementary teachers. The Silver Bracket winners were Candy's Good Neighbors (a local State Farm Insurance team).
The next opportunity the community has to raise funds for the Special Olympics of Iowa is on February 23rd for the Polar Plunge hosted at Lake Ahquabi in Indianola.
Original source can be found here.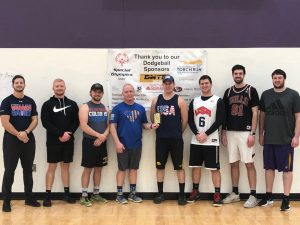 Source: Norwalk Community School District