Norwalk Community School District issued the following announcement on Jan. 22.
The Norwalk High School Show Choir Program is well underway with two home performances and two competitions under its belt. Sound Adrenaline (Junior Varsity) and Sound Revolution (Varsity) began all the way back in August before school started when the students began learning their choreography and music, and we added in rehearsals for the show choir band in mid-October. Some may think to themselves, "you really rehearse the same 15 to 20 minutes of music for the whole 7 month season?" The answer is yes! Each high school show choir rehearses only 3 to 4 hours per week and we are proud to say that our students are involved in nearly every other activity and sport the school offers.
Our Fall Preview, the Monday before Thanksgiving, is an early effort at putting the show together and really gets the singers focused on performing to the best of their ability early on. We spend one more month refining the show and adding huge components like costume changes as well as the essential and awesome show choir band.
Upon returning from winter break, the show choirs spend a great deal of time preparing for the Exhibition Show on January 6th, always the Sunday after school begins, with what we call Winter Camp, bringing in a clinician to offer new insights and added motivation to take the show to the next level. The Exhibition Show also includes the two middle school show choirs, and this year we had a packed house for the concert!
The competition season started at Waukee High School on January 12th where our competitors included some of the largest schools in the state including Southeast Polk, Cedar Rapids Prairie, Iowa City West, West Des Moines Valley, and Johnston. Both groups had a great first effort, but neither group were awarded any hardware on the winners podium, which includes only the top 3 ensembles in each competing class. Sound Revolution was just a few points away from competing in finals competition, which calls for the top 6 scoring ensembles from the day to compete again in the evening.
We just finished our second contest at Johnston High School on January 19th where the competitors once again included some of the largest 4A schools including Ankeny Centennial, Waukee, and Urbandale. Each group made huge strides in just one week but once again were just a few points away from additional recognition. Sound Revolution was once again just a few points away from being selected for evening finals, just 2.5 points out of 1250 total points, a difference of just 0.002% from the next ensemble who was selected.
We are looking to finishing our competition season at Indianola on February 16th and at Marion on February 23rd!
The Middle Show Choirs have had a great season as well. They are divided into a 7th grade show choir (Sound Intensity) and an 8th grade show choir (Sound Sensation). Sound Intensity has not yet competed but will do so on Feb. 9th at North Polk. Sound Sensation took 1st place at Des Moines Christian and did honorably well, capturing 4th at Waukee.
The community has a chance to see all our show choirs two more times at home this season in our Show Choir Showcase performances at the Norwalk Performing Arts Center:
Saturday, March 2nd at 7:00pm
Senior Recognition Night, features the high school show choirs and Senior soloists
Saturday, March 3rd at 5:00pm
features the middle school and high school show choirs, with more Senior soloists
Admission is $5.00 for adults and $3.00 for students and tickets can be purchased in advance at the Activities Office, starting on Monday, February 18th
–Submitted by Sound Revolution Director, Gerard Krupke
–Photo Credit: Carrie Krupke & Jason Williamson
Original source can be found here.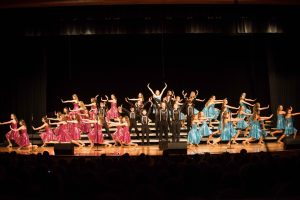 Source: Norwalk Community School District